The three factors that determine ad quality for Google Ads are:
Relevance of the ad
Expected CTR (Click-through rate)
Visitor experience on the landing page
If you're just interested in the short answer, you can stop reading now.
If instead you'd like to learn in very simple terms what these factors are and why it's important for your business when running Google Ads, you're in for a treat.
Ad quality factor 1: Relevance of the ad
Relevance of the ad measures how relevant and related the ad and the keyword are.
For example, if you're targeting a keyword such as "tax returns for construction business" but your ad copy doesn't mention construction, the relevance is going to be low.
It's extremely easy to be lazy and use the same generic ad copy across multiple campaigns. I've reviewed plenty of ad accounts where that was the case, and early in our Google Ads career we've all made that mistake at least once.
But matching ads and keywords pays off, and it's worth the extra time and effort put into it.
It's also worth saying that deciding your account structure beforehand (i.e. what campaigns you're going to run, and how the ad sets are going to be structured) will make it easier to match keywords and ad copy, which in turn improves ad quality.
When in doubt, keep it tight!
Ad quality factor 2: Expected CTR
Expected CTR is the way Google decided to estimate how many people are likely to click on your ad once they see it in the search results.
Google doesn't of course have a crystal ball, so it uses your current and past keyword data and ad position (aka if it appeared in first, second, third or fourth position in the search results) to make an educated guess about how the keyword is going to perform in the future.
This educated guess is then given a below average, average, or above average rating.
The more relevant the ad is to the keyword (and to the landing page, as we will see), the higher the expected CTR, and usually the lower the cost of each website visit.
On the flip side, if a lot of people are seeing the ad but barely anyone is clicking on it, this is a sign that the message of your ad isn't resonating.
Common causes of an ad not resonating are:
Ad copy not related to the keyword
Packing an ad with a list of boring, meaningless features
Not using even a starting price point
Using emotionless language
Not showing how your product or services solves the person's problem
Being too generic and therefore looking the same as everyone else's ads
Targeting generic keywords where you can't tell the user's intent, so you can't speak to it
Please note: Expected CTR is not the same as CTR, so please don't get confused. The CTR value you see in your Campaigns view measures current performance, not expected, and is always expressed as a percentage.
Ad quality factor 3: landing page experience
It should go without saying if you've made it this far into the article: there is no point in the keyword and the ad relating to each other, if people clicking on the ad then have an awful experience on the landing page.
That's why factor 3, landing page experience, is there to make sure users are going to have a good time and find exactly what they're looking for.
What to do to cover the basics for a good landing page experience:
Make it easy for user to reach out (i.e. phone number and/or enquiry form clearly visible, always)
Include the keywords you're targeting in your Google Ads account
Include as much as possible copy from the ads (or write the website copy so it can work for ads too, either way)
K.I.S.S. – Keep it simple stupid
If you can say it in 300 words, don't say it in 350
The page has to load in less than 3 seconds
The right landing page is almost never your homepage
You can find more on this, and plenty more advice in the book "Are You Ready For Paid Ads?", a quick read for everyone trying to understand exactly what it says in the title.
We've all been on a website that loads really slow, the images take ages to show, you have to scroll 3 or 4 times for a phone number, or you don't understand for the life of you what they sell and why you should buy it.
Your assignment is to take notes and do the exact opposite.
Just like for Expected CTR, Google gives landing page experience a below average, average, or above average rating.
Tying it all together: the Quality Score
The Quality Score is, essentially, a number from 1 to 10 that Google gives to your keywords based on the combination of the three factors we've just gone through.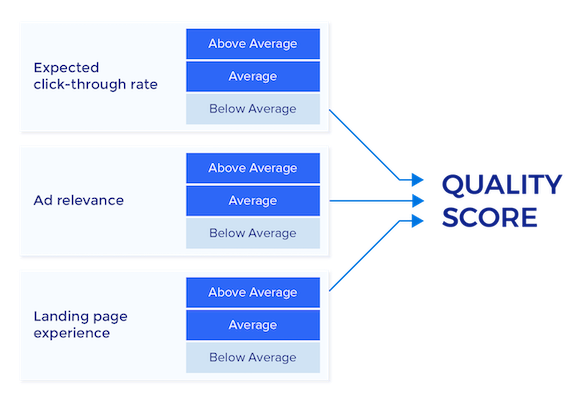 It's extremely important to bear in mind that there is no predictable formula that will make your Quality Score increase.
The sentence "If I do X and the change Y, my Quality Score should improve by Z" doesn't make sense, so please don't request the person managing the ads to reach a certain Quality Score. It's outside of their control.
Having said that, it's common sense to think that the more ad, keyword and landing page are relevant, the higher the Score will be.
To sum this up in a sequence
Relevance of the ad, expected CTR and landing page experience determine ad quality
Ad quality is then scored by Google with a Quality Score from 1 to 10
The higher the Quality Score, the more Google deems that your ad, keywords and landing page are relevant
The more relevant you are, the less you're likely to pay for a website visit
Over time, this is likely to save you a truckload of money and allow you to do more for the same spend
---